Hill Country Hoedown
December 10 + 11
Join AF this December in Austin for the most wonderful time of the year! We have gathered the coolest outdoor brands bringing you gear that will take you to the most remote ends of the earth or make you the envy of your neighborhood with the ultimate backyard bbq setup. The perfect place to find that extra special gift for the outdoor lover in your life. Come sip festive holiday cocktails, enjoy delicious bites, and be serenaded by the sweet sounds of Texas country. This will be a weekend you will not want to miss. Children under 13 year old are free to enter when accompanied with a ticket holding adult and yes, dogs are allowed!
Meet Founders and Shop
Meet the men and women behind your favorite brands, learn about their inspiration, talk shop, and even get the inside hook on new products coming down the pipe.
Enjoy Premium Refreshments
Sip world famous Maker's Mark Kentucky Bourbon as a hand-crafted cocktail or simply neat with a dash of water, try All Hands craft cocktails and local craft brews.
Eat Famous Texas BBQ
Enjoy the best BBQ whether it be a late breakfast, lunch, or a hangover cure we have the meats that will satisfy your hunger.
Support the Texas Parks & Wildlife Foundation
A portion of every ticket sale goes to supporting the Texas Parks & Wildlife Foundation. Stop by their booth at the event to learn all that they do to keep Texas a home for outdoorsmen and women.
Product Demos and Seminars
Test ride an eBike, learn how to tie fly fishing flies, get your wallet monogrammed, and even custom chain stitch your jacket.
Gear Up
Find cool gear for your backyard patio, your off road truck, your next hunt, or grab the perfect gift for the person that matters most.
Treat Yourself to the VIP Experience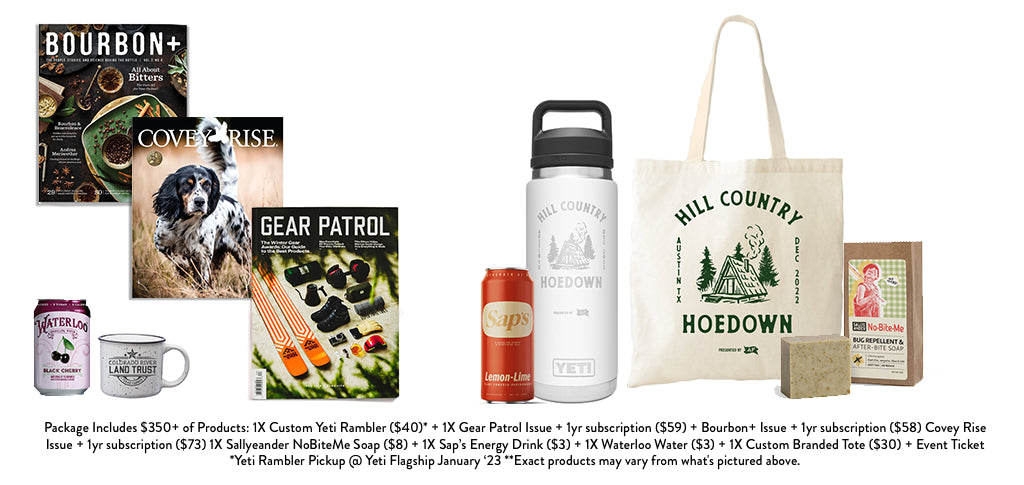 1500 East 4th Street, Austin, TX 78702
December 10 + 11
11AM - 5PM
Public Transit:

[2] Line - 1201 11th/Lydia
Head west on E 11th St toward Lydia St
Turn left onto Lydia St
Turn left onto 7th St
Turn right onto Navasota St
Turn left onto E 4th St
Destination will be on your left
[4] Line -1601 7th/Comal
Head northwest on E 7th St toward Comal St
Turn left on Comal
Tirn right on to E 4th
Destination will be on your right

By Bike:

[Via 4th St] Head east toward Lavaca St
Turn right toward Lavaca St
Turn left onto Lavaca St
Turn right onto W 11th St
Turn right onto Congress Ave
Turn left onto E 5th St.
Turn right onto Red River St
Slight right toward E 4th St
Destination will be on your left

By Foot:

Head East on Lavaca St
Turn left onto W 7th St
Turn right onto N Interstate 35 Frontage Rd
Pass by Wendy's (on the left in 110 ft)
Turn left onto E 4th St
Destination will be on your left

By Car:

Head south toward W 10th St
Turn right onto W 10th St
Turn left at the 1st cross street onto Guadalupe St
Turn left onto W 7th St
Turn right onto Navasota St
Turn left onto E 4th St
The destination will be on the left

There is street parking available : First come first served

Parking Garage Nearby :
Foundry 1 + Foundry 2
Lot at 1409 E 4th St